Berry Aviation recognized as DAV Department of Texas Midsize Employer of the Year
February 18, 2020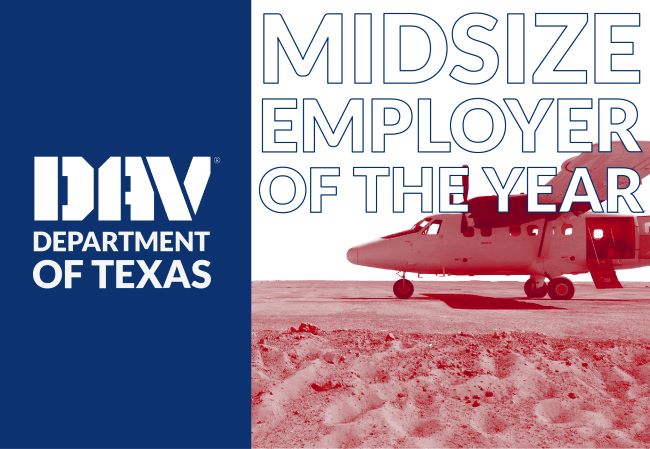 Disabled American Veterans (DAV) Department of Texas recently named Berry Aviation, Inc. their Midsize Employer of the Year. Berry Aviation is headquartered in San Marcos, Texas and employs more than 300 employees, 30% of which are U.S. veterans.
     "We are honored to receive this recognition from DAV and it further galvanizes our commitment to do right by our Veterans," said Stan Finch, President of Berry Aviation. "We have enjoyed a long and meaningful history serving the U.S. Department of Defense and we take great pride in employing Armed Forces Veterans throughout our company. Their experience and perspectives have time and again proven beneficial to our global operations. We are truly thankful for our Veterans' service and are proud to have them on our Berry team."
The DAV Midsize Employer award recognizes businesses with 250 to 999 employees that demonstrate by their employment policies, hiring practices and community outreach that they have an unwavering commitment and passion to ensure all veterans obtain suitable employment to care for themselves and their families—and have the opportunity to live life with respect and dignity. The award will be presented at the DAV Department of Texas Convention on June 5, 2020 in Corpus Christi, Texas.
     "Recruiting and hiring a Veteran is the most tangible way Berry Aviation can honor and express gratitude for the sacrifices made by our Veterans and their families," said Warren Orr, Berry Aviation's Director of Human Resources. "We have a proud history of being able to say 1 out of every 3 of our employees is a U.S. Veteran and we are equally proud that they select Berry Aviation as their 'employer of choice.' Berry is always on the lookout for high-caliber talent and appreciate the discipline, skill, and dedication that Veterans bring to our organization."
Berry Aviation, Inc., an Acorn Growth Company, was established in 1983 and has developed a strong reputation as a dynamic, customer-focused company experienced in providing solutions to its customers' most complex challenges. The company specializes in delivering rapidly mobilized, multi-role aviation solutions to austere locations with a range of services and capabilities including On-Demand Cargo, Passenger, Aerial Delivery, CASEVAC/MEDEVAC, Night Vision Goggle, and ISR (Intelligence, Surveillance, and Reconnaissance).
About DAV
DAV is a national nonprofit dedicated to a single purpose: empowering veterans to lead high-quality lives with respect and dignity. DAV accomplishes this by ensuring veterans and their families can access the full range of benefits available to them; fighting for the interests of America's injured heroes on Capitol Hill; and educating the public about the great sacrifices and needs of veterans transitioning back to civilian life. DAV is a leader in connecting veterans with meaningful employment and providing resources to ensure they have the opportunity to participate in the American Dream their sacrifices have made possible.